WELCOME TO CERAKOTE MONTREAL
"Cerakote ceramic coatings utilize state-of-the-art technology to out-perform any competitive coating in both laboratory settings and real world applications."

---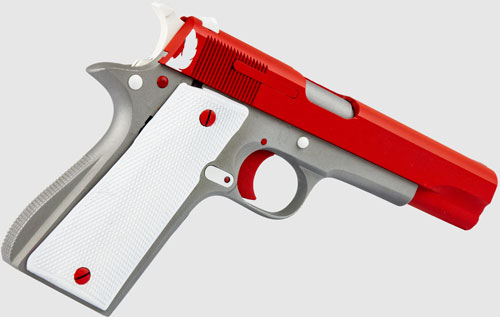 What is Cerakote?
---
Cerakote is indeed leading the industry in thin-film ceramic coatings. It is the best protection available against all elements. The Cerakote layer will not only keep rust and corrosion at bay, it is also hard and durable, protecting against abrasion from regular use.
Cerakote thin-film layer can be applied to all parts. It has lubricating properties which will protect moving assemblies. For firearms, this will lower friction, and lower the need for lubricants that attract dust, ultimately giving you a better feel that will last a long time.
Learn More
CERAKOTE PRICING
---
The prices listed here are general estimates and might vary depending on your specific requirements.
Additional fees will be added for disassembly and reassembly as needed ranging from 80$ to 110$.
Get in touch with us by phone, e-mail or on Facebook for a quote!
Contact Us
Handguns
---
$275 - Revolver - Complete Gun
$250 - Pistol - Complete Gun
80$ Barrel
120$ Frame
100$ Slide
90$ Magazine
Bolt Action Rifle
---
300$ Complete (Barrel / Receiver / Magazine)
$200 Barreled Action
90$ Barrel
120$ Stock
80$ Bolt
Shotgun
---
300$ Complete
140$ Stock + Fore end
100$ Receiver
90$ Barrel
150$ Double Barrel
SemiAuto / AR
---
$325 Complete
100$ Upper
100$ Lower
75$ Stock
100$ Barrel
CERAKOTE MONTREAL GALLERY
Check out some of our work, and click the link below for the full gallery!
Cerakote Gallery